There are times when you want to personalise a user's experience, perhaps in a membership site or in a marketplace style site. In those cases, it's handy to be able to display a users name.
You probably don't want to display the actual usernames, especially when WordPress provides a way for people to customize how they are seen on the site.
To get a WordPress user's display name, you need to get the user object, then use $user->display_name to access the user's name.
That will display whatever the user has set as their display name in this field: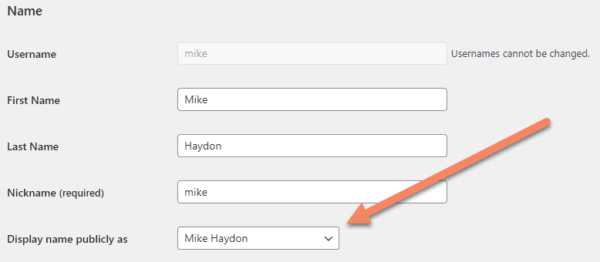 If the user hasn't specifically set anything as their display name, it will default to their username. So you don't have to worry about fallbacks.
This is saved in the wp_users table under display_name for the particular user.
How to get the User object
There are a few ways to access the WordPress User object, depending on what information you have.
If you just want to display the current user's name, use wp_get_current_user(). This will only work for the currently logged in user.
$user = wp_get_current_user();
If you have an ID of a specific user who may or may not be logged in, or you're looping through a list of IDs, my preferred way is:
$user = get_userdata( $user_id );
If you have some other information for the user, maybe an email or a username, use:
$user = get_user_by( 'email', 'user@domain.com' );
Change the fields according to what information you have.