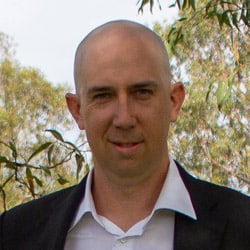 Mike Haydon is an internet entrepreneur and founder of Intelliwolf. He has built sites on WordPress since 2006.
My Work Story
I've always been "into" coding, starting when I was 9 years old. I was trawling through DOS on our family's first computer and came across a program called GW-BASIC.
By trial and error, and later with a few books from the library, I taught myself to code in GW-BASIC. I later progressed to QBasic and spent many happy hours solving problems and getting stuck in infinite loops.
In 2001, doing Summer classes for my Bachelor of Arts at Notre Dame, I took an introductory course on HTML. I built my first website on GeoCities, got the highest ever grade for that course at the University (98%) and was hooked on building for the web.
Where others were using Dreamweaver and FrontPage, I always preferred to build my websites just using Notepad++. It never made sense to me why those other programs had to insert so much bloated code, which slowed everything down. To this day, I love clean, functional code and implement it whenever I can. I use Atom for most of my coding now.
While completing the Bachelor of Arts (History) and then Bachelor of Laws, I built websites on the side. I made a few hundred dollars a month from affiliate marketing, following what I learned from Darren Rowse, Armand Morin & John Reese and later in Stompernet from legends such as Andy Jenkins, Andrea Warner (RIP both of them), Jerry West, Dan Thies, Leslie Rohde, and Don Crowther.
In 2006, I built my first WordPress website. I had to learn PHP to build the theme. Pre-created themes weren't really a thing back then. You pretty much only had Kubrick.
I started blogging about what I was learning regarding WordPress, social media (we called it "web 2.0" back then) and search engine optimization ("SEO").
2006-2008 were spent learning and experimenting with web technologies. They were somewhat on the backburner as I got married and focused on my career as a lawyer.
In late 2008, circumstances aligned and I decided to make the (super scary) jump from being a lawyer into being a full time web guy. This was one of the hardest decisions I've ever had to make, and there are still days when I'm not sure I made the right call. Those days usually involve missing semicolons and unhelpful error messages :)
It might not be immediately obvious, but practising law and coding are actually quite similar. They're both very detail oriented and process driven. They also have quite a bit of creativity within those constraints. I feel that the skills I built as a lawyer have enhanced my skills as a coder, and vice versa. The law degree obviously helped with my ability to communicate clearly. Hopefully that helps your experience on this website.
I've gotten to know some great people through my involvement with OMG Machines, Network Empire and Income School.
I've taught web development and web design at OMG Machines as a guest teacher. I built a web design course with my friend Clinton Dixon that has been well received. I taught at the $20,000 per head Network Empire Certification course and was their plugin developer for several years.
I've built websites from little 5 page, local business sites all the way up to 50,000-page wholesaler and membership sites.
I'm often brought onto projects to solve a particular issue that needs a bit of custom code or a creative solution.
I'm largely a self-taught programmer. While I have not studied computer science at university, I've taken a lot of online courses and read a lot of books to fill in the gaps, such as CS50 and Refactoring by Martin Fowler.
Languages I'm proficient in:
HTML & CSS
PHP
Javascript (including variations such as jQuery & React)
Python
C
Java
My Personal Story
I'm married with two young sons. I taught both of the boys to read by the time they were 3 and 2 years old respectively. I homeschooled the eldest til year 2.
I used to play a lot of soccer with my family. We were pretty dominant in a couple of indoor soccer clubs over a few years. I had to stop all that because I kept picking up injuries.
In 2012, when my wife was pregnant with our first, I decided to take up running. I didn't like the trajectory I was on with regard to my fitness and wanted to be able to keep up with the young one as he grew.
Fast forward 10 years and I have run 9 marathons (42.2km or 26.2mi) and a bunch of half marathons or shorter. I'm not fast over long distance, but I just love getting out and spending time in nature. There's nothing quite like the confidence you get knowing that at any time, if you need, you can just run 20+km without stopping.
I've coached my kids' football teams and was the Auskick Coordinator for our club (90+ kids). They've now moved to playing soccer and I help with coaching them there. I also coach (or assist) them in cricket, because I can't seem to sit idly by.
I'm the eldest of 9 children (all to the same parents), so Christmas is a somewhat rowdy affair. We live in sunny Perth, Australia and I've been able to build a decent sized fruit & vegetable garden.
I'm a 9th generation Australian, with 8 confirmed convicts among my ancestors, including two First Fleeters. All of my great-grandparents were born in Australia, though Australia wasn't officially a country when the youngest of them was born.
As you can probably tell, I'm a keen student of history and have spent a long time researching my family tree. They came from England, Scotland, Ireland, Channel Islands, USA, Holland, Germany (Martin Luther wrote about my 14x great-grandfather as a friend) and Iran (Armenian). My ancestors fought in the American Revolution and helped build this country. I only hope I can live up to their legacy.